Training on Horizon Europe funds to be held at ITP Prizren
Date: 30 January 2023
Category: Science and Education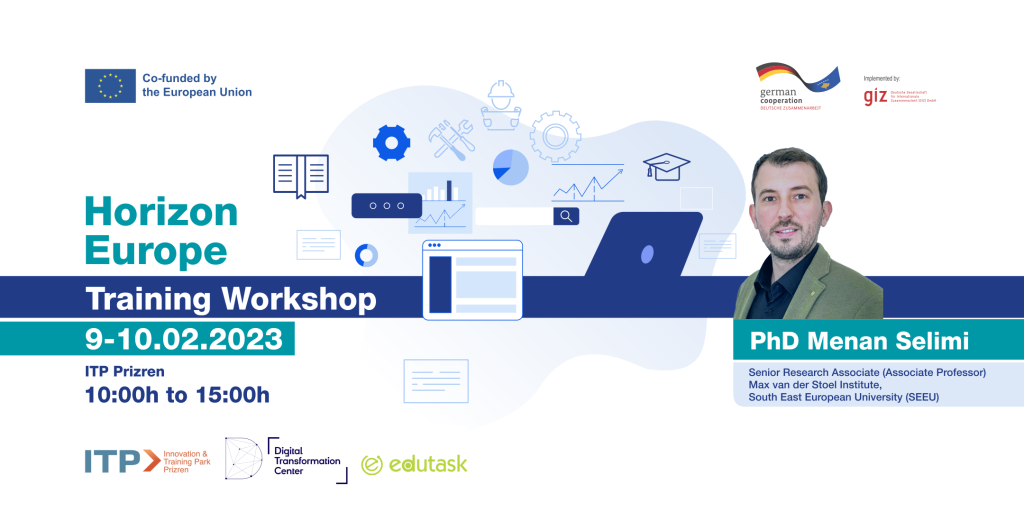 Horizon Europe Training Workshop
A two-day training focused on examining various aspects related to Horizon Europe, the EU's key funding programme for research and innovation, will be held at the ITP Prizren on 9 and 10 February 2023.
The training provides detailed information on the application calls which are eligible to entities from Kosovo and will also touch upon technical aspects of application procedures, including forming of consortiums, project proposal writing and other relevant information.
The training will be conducted by Menan Selimi, a Senior Research Associate (Associate Professor) at Max van der Stoel Institute, South East European University, and it is part of the Activity Fostering Applied Research in Kosovo, which is supported by European Union and the German Federal Ministry for Economic Cooperation and Development through Digital4Business component, which is implemented in the framework of ITP Prizren's Digital Transformation Center.
The implementation of this activity is facilitated by EduTask. The training is free of charge and registration is possible under the link below, created by EduTask:
Horizon Europe Training Workshop- ITP Prizren Tickets, Thu 9 Feb 2023 at 10:00 | Eventbrite
A same training will be held in Prishtina on 6 and 7 February 2023 (already fully booked).